Welcome to the Parishes of St. Mary, Our Lady of Victories and St. Patrick's, Dundee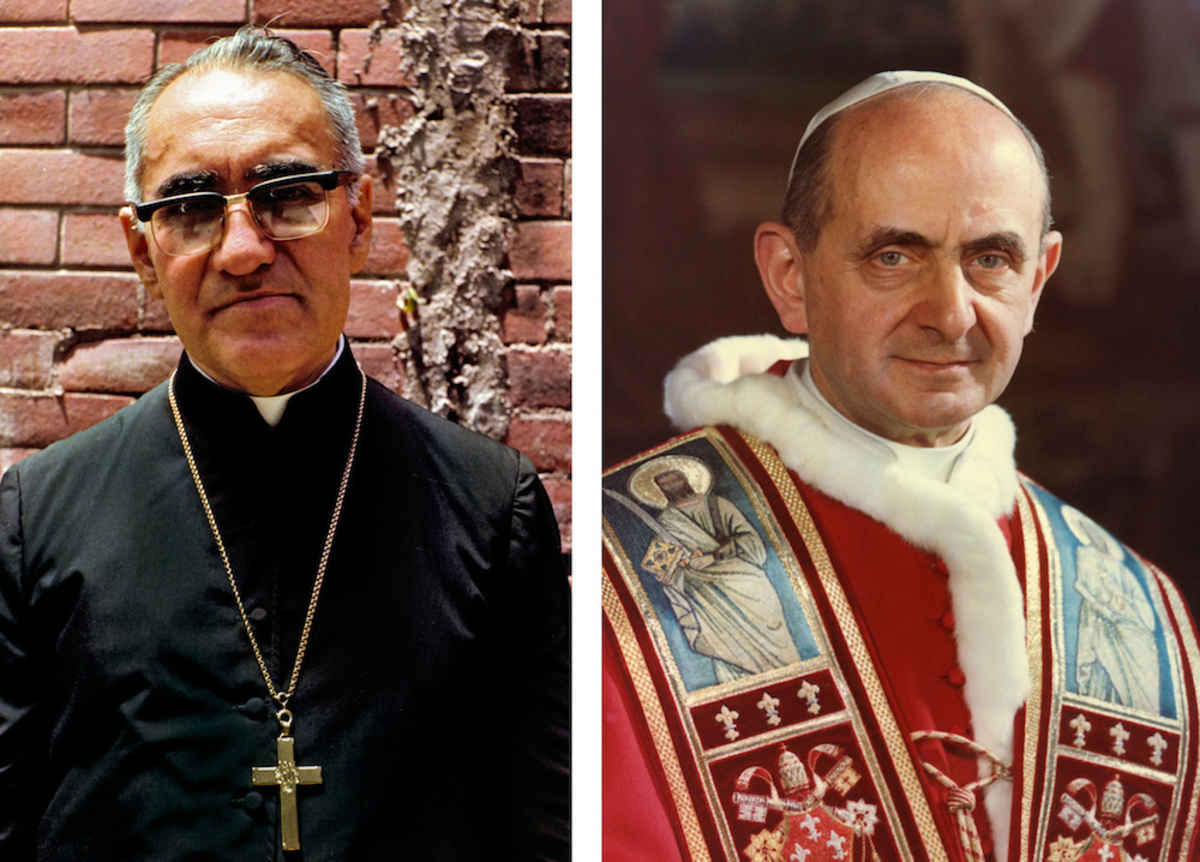 Today (Sunday 14 October) in Rome, Pope Francis, will canonise seven people. Among them will be Archbishop Oscar Romero and Pope Paul VI.
Blessed Oscar Romero, who was beatified by Pope Francis May 23, 2015, in El Salvador, was the archbishop of the nation's capital city of San Salvador. He was shot while celebrating Mass March 24, 1980, during the birth of a civil war between leftist guerrilla forces and the dictatorial government of the right.
An outspoken critic of the violence and injustices being committed at the time, Romero was declared a martyr who was killed in hatred of the faith for his vocal defence of human rights.
Born Giovanni Montini in 1897 in the town of Concesio, Italy, the future Pope Paul VI was ordained a priest at the age of 22. He served as Archbishop of Milan prior to his election as Bishop of Rome in 1963.
As pope, he oversaw much of the Second Vatican Council, which had been opened by Pope St. John XXIII, and in 1969 promulgated a new Roman Missal. He died in 1978, and was beatified by Pope Francis October 19, 2014.
Pope Francis himself unofficially confirmed the news of Paul VI's canonization during his annual meeting with the priests of Rome February 17.
Apart from his role in the council, Paul VI is most widely know for his landmark encyclical Humanae Vitae, which was published in 1968 and reaffirmed the Church's teaching against contraception in wake of the sexual revolution. This year marks the 50th anniversary the historic encyclical. Both miracles attributed to Paul VI's intercession involve the healing of an unborn child.
The others being canonised are: Mother Catherine Kasper, the German founder of a religious congregation; Nazaria Ignacia March Mesa, the Spanish founder of another order; and two Italian priests, Father Francesco Spinelli and Father Vincenzo Romano.
Added to the list in July, after the ceremony had already been announced, is a teenager, Blessed Nunzio Sulprizio, who died in Naples in 1836 at the age of 19 after a life of pain and suffering. This high church ceremony is taking place during the month-long synod of bishops in the Vatican, which has gathered over 200 bishops, including about 50 cardinals, and nearly 40 young people to discuss youth, faith and vocations.
Sulprizio was beatified — the first step to sainthood — by Pope Paul VI in 1963, and they will both become saints in the same ceremony.
Beatissime Pater, gratias Tibi agimus.
Orémus pro Pontifice emerito Benedicto XVI. Dominus conservet eum, et vivificet eum, et beatum faciat eum in terra, et non tradat eum in animam inimicorum eius.